Zaterdag 13 MEI 2023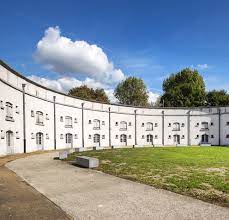 Nabij Antwerpen, langs de Schelde, ligt het mooi gerestaureerde Fort Liefkenshoek.
Gebouwd eind 16° eeuw om Antwerpen te beschermen tegen de Spanjaarden, maakte het nadien deel uit van een bewogen geschiedenis.
We ontdekken -ieder op eigen ritme- de rol die het fort speelde in de ontwikkeling van Antwerpen.
Het fort is bereikbaar met de Waterbus : https://www.dewaterbus.be/nl/schelde
Wie met de wagen niet in het centrum wil komen kan een opstapplaats naar eigen komfort kiezen met dien verstande dat je rond 12.00 u aankomt in het fort.
PROGRAMMA:
10.50: Samenkomst aan het Steenplein opstapsteiger
11.00: Vertrek Waterbus (eigen rekening)
12.00: In de Brasserie Fort Liefkenshoek, 3-gangen menu :
Soep van de dag + hoofdgerecht + dessert
Keuze hoofdgerecht:
stoofvlees
vol au vent
scampi Fort Liefkenshoek
vegetarische risotto

Voor een vlotte bediening graag bij inschrijving uw
keuze duidelijk vermelden.
Ieder betaalt eigen menu en consumpties
(richtprijs 25,0€ + drank eigen rekening)
14.00: bezoek aan het fort
16.00: retourtrip Waterbus naar Antwerpen ETA 17.00
(eigen rekening)
Graag deelname bevestigen aan het secretariaat van het Koninklijk Gallois Genootschap:
–door het terugsturen van dit formulier per post naar :
Brusselsestraat, 137 B-1840 Londerzeel.
-door middel van sms of Whatsapp op gsm. 0498/61.01.27
-met e-mail: secretariat@gallois.be of via de website: www.gallois.be
dit vóór 30 april 2023.

Nuttige adressen:
De Waterbus: Steenplein Antwerpen
https://www.dewaterbus.be/nl/schelde
Fort Liefkenshoek: Ketenislaan 5 Kallo 9130 Haven 1974